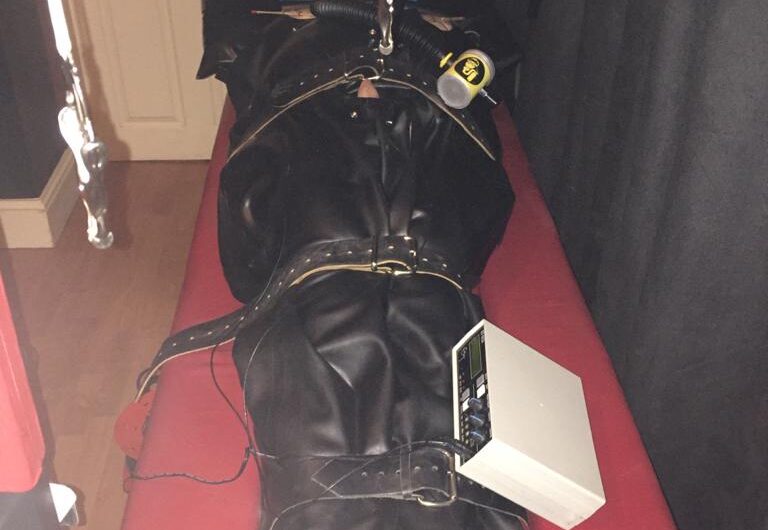 Mistress Ronelle's chambers are very easy to find with ample nearby parking. Mistress opened the door and let me in, with her usual wide smile and looking fantastic in her shiny latex dress.
Following our usual short chat I was invited to get myself ready and return to her dungeon when ready and Mistress would be ready for my suffering to begin. When I returned, Mistress was stood waiting with a metal butt plug in her hand. She instructed me to bend over whilst she not only inserted the plug, but tied it securely in place to there was no way of it coming out in the session and as I stood up was forced deeper into me.
I was led to Mistress's bench where I was strapped down securely, my hands able to touch Mistress's firm latex clad body….until she secured them so she was just out of reach from my secured wrists. Mistress fitted a gas mask to me and fed me a good dose of poppers…. then came the nipple clamps and electrics on my cock too. As the torture and her teasing continued all I wanted to do was suffer more and more for my Mistress.
Pain gradually increased as the session went on, as I want more and more as the teasing increased. Eventually the cock electrics were removed, but the torture elsewhere continued. Mistress Ronelle with a sadistic smile and tone told me she had a new toy and secured a vibrator to my cock with rope before turning it on and edging me for what seemed like ages.
Mistress knew exactly what she was doing with me, teasing me and turning up the electrics in my butt. I could only touch her fabulous latex clad body with the ends of my fingers as the intensity increased. My butt burning from the electrics and now desperate to cum, Mistress just continued to make me suffer and it really was giving her great pleasure too.
I was exhausted by the the time Mistress let me cum with a fantastic orgasm. An absolutely fantastic session with Mistress Ronelle, as usual.