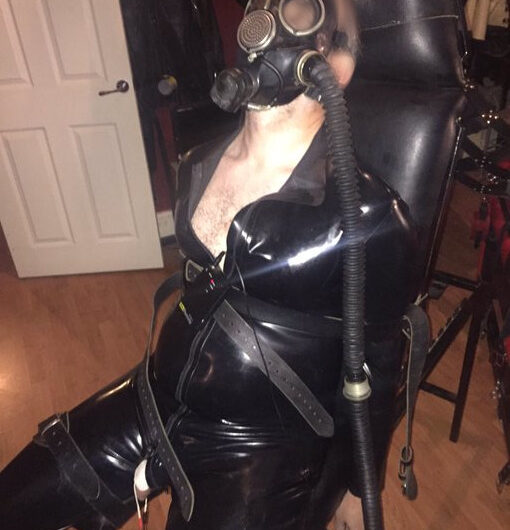 I visited Mistress Ronelle after beforehand in correspondence with her described my fantasy to be tightly restrained in rubber and tortured by one of the Rubex rubber Goddesses brought to life. When I arrived at Mistress Ronelle's Chamber I was met by the personification of that vision.
After a brief "getting to know you better" my fantasy was fully brought to life. It was totally amazing however I realised after a time that I had bitten off a little more than I could chew and had to ask for a break. I was greatly impressed by the way that Mistress Ronelle handled this.
I was released and we moved to another room in her magnificent chambers, which are awesomely equipped throughout. I was permitted to join her on a settee. She reclined and rested her booted legs, which were covered by a long, heavy rubber skirt on me. I don't need to tell you that this was thrilling.
I was permitted if not gently commanded to sniff poppers while Mistress verbally probed the depths of my perverted depravity. The dialogue was very much two-way as Mistress Ronelle both interrogated and also directed a little along the lines that it became clear also stimulated her. To say that this conversation was hot would be an understatement.
After a while I had recovered myself a little and was taken to another room. There I was strapped down tightly over a bench and subjected to an extended period of anal abuse accompanied by the most wonderful verbal commentary combining what was happening that I couldn't see, humiliation, explaining my place and purpose in no uncertain terms and moments of what sounded very much like genuine excitement on the part of Mistress Ronelle.
Mistress Ronelle is no clock watcher. After session care was extensive in duration and very engaging. We chatted for ages. Mistress Ronelle was great fun to talk to and in combination with general social conversation and a review of what had just happened, she was already exploring what I might suffer in future for her amusement.
As a slut/slave of 30 years I can say that Mistress Ronelle is the best.
Slave Dave / Slut Davina